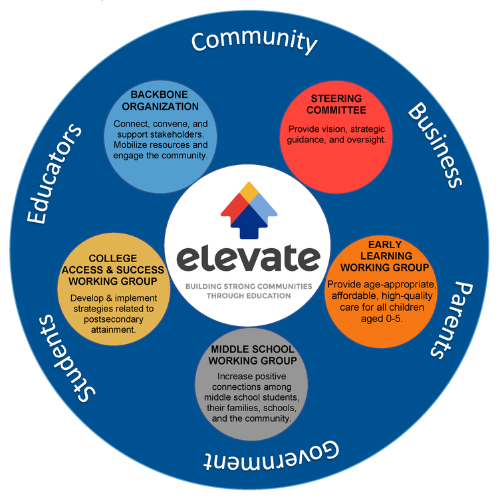 What is Elevate?
Elevate represents a dynamic community coalition comprised of diverse cross-sector stakeholders, united in their unwavering commitment to fortify the educational pathway from early childhood to career readiness in the regions of Columbia, Walla Walla counties, and Milton-Freewater.
The organization's core ethos is rooted in the belief that the attainment of education is a collective commitment of the entire community.
Mission
At the core of its mission lies the central goal of removing obstacles that impede student achievement, all while fostering a culture defined by collaboration, diversity, equity, and inclusiveness, At the heart of Elevate's endeavors lies an unshakable faith in education's transformative power to ignite individual potential, create boundless opportunities, and fortify the very foundations of our communities.
By 2027, the goal is to achieve a 70% postsecondary attainment rate.
Elevate's Steering Committee is comprised of cross-sector community partners that provide strategic direction for the Collective Impact initiative and champions its work.
Elevate currently has three working groups: Early Learning, Middle School and Postsecondary Access and Success. To learn more about the working groups, click on the picture below.
Elevate is a StriveTogether partner.
StriveTogether supports communities to eliminate disparities and change the outcome.

WHO- Elevate acts as a catalyst for change, working to eliminate barriers to student success and build better alignment across the educational continuum within our region, which includes Columbia and Walla Walla counties and the Milton-Freewater area.  We believe that educational attainment is a shared responsibility of the entire community.
 
WHAT- To build a strong educational pipeline that recognizes and fosters the talents of all students from cradle through career.
 
HOW- Build a culture that values and supports investments in educational attainment.
Establish practices that embrace diversity, build equity and support inclusiveness for all members of our community.
Collaborate to leverage resources for maximum impact.
We believe in the power of education to inspire individuals, create opportunities, and strengthen communities.
We believe sustainable change is possible when all stakeholders are meaningfully involved. We are committed to pursuing new ideas that support locally-relevant ways to improve educational opportunities and outcomes. 
We are committed to identifying and removing barriers to educational attainment for all populations.
We believe in collaboration and are committed to aligning goals and leveraging resources across our region so that all students have access to high quality education. 
We are committed to supporting all students from cradle through career and believe that learning is a lifelong pursuit. 
Students and families are at the center of all that we do.  Our decisions are guided by their input and experience. 
We are committed to using data to set goals and evaluate our progress.
Children's Home Society    
Columbia County Health Systems
College Place School District    
Columbia School District Burbank    
Dayton School District    
ESD 123    
GEAR UP    
Little Angels Bio Dome    
Milton Freewater School District    
Parents    
Port of Columbia    
Port of Walla Walla    
Prescott School District    
Sherwood Trust    
Starbuck School District  
Students  
The Club Plus Delta    
Touchet School District    
Waitsburg School District    
Walla Walla Community College    
Walla Walla Disability Network    
Walla Walla School District    
Walla Walla University    
Walla Walla Valley Early Learning Coalition    
Walla Walla YMCA    
Whitman College    
 
Anonymous
Ballmer Group
Bill and Melinda Gates Foundation
Partners for Rural Impact
StriveTogether
United Way of the Blue Mountains
Washington Cradle to Career Coalition
Washington State Board of Education
Washington Student Achievement Council
Amanda Mount, Director of Policy and Advocacy
Sherri Linton, Community Results Coordinator
Pearl Cook- Whitman Intern
In the summer of 2016, the Education as a Path to Economic Growth study was released, highlighting the correlation between investments in education and economic growth in Columbia and Walla Walla counties, as well as the Milton-Freewater area. The study proposed 19 strategic recommendations for education investments in the region. Subsequently, in the fall of 2016, an Implementation Task Force Action Plan was developed to guide advocacy for these recommendations. In 2017, United Way of the Blue Mountains underwent a transformative change, shifting from a program funder to a collective impact organization, emphasizing collaborative efforts to improve long-term outcomes. The Implementation Task Force's Big Investments Subcommittee focused on Recommendation 1, aiming to enhance the community's understanding and commitment to high-quality education. They researched educational attainment alliances and promise models, consulting with Social Venture Partners to learn from their experience supporting the Road Map Project.
Elevate's journey began in the summer of 2019 when conversations were initiated to identify their first priority area. By the fall of that year, the Steering Committee had determined that Middle School would be their focus, leading to further research and interviews with parents, students, and teachers to establish specific goals. However, unforeseen challenges awaited them in early 2020, as flooding and the onset of the Covid-19 pandemic forced school closures. Despite these setbacks,
the Middle School Working Group persevered and identified key objectives: fostering positive connections among students, families, schools, and the community, creating opportunities that inspire all students and support their transition to high school, and designing strategies that address the diverse needs of students and their families.
In the summer of 2020, the Educational Attainment Alliance, a partner of Elevate, began pursuing the Strive Together application, signaling their commitment to educational excellence. This was followed by Community Roundtable Conversations held in various towns, bringing together representatives from education, government, healthcare, and other sectors to discuss critical issues faced by families during school closures. Elevate also joined the Washington State Cradle to Career Network, an advocacy coalition focused on state-level policy.
In January 2021, the Educational Attainment Alliance rebranded itself as Elevate: Building Strong Communities Through Education and launched the Middle School Working Group. Later that year, Elevate formed a partnership with Partners for Education (Berea College), expanding their network and resources. The summer of 2021 saw the Steering Committee identify early learning and kindergarten readiness as their second priority area.
As Elevate entered 2022, they hired a Community Results Coordinator and organized the Elevate Education Summit across multiple venues. Working groups focused on kindergarten readiness, middle school, and post-secondary access and success analyzed data and engaged with students, parents, and the community to determine current needs. Community conversations were held with high school staff assisting students with post-secondary plans, and middle school students participated in a survey on cell phone usage. Additionally, a Comprehensive Early Learning Study was completed, further informing Elevate's efforts.
Throughout their journey, Elevate forged partnerships with organizations such as the Washington Cradle to Career Coalition, Partners for Rural Impact, Ballmer Group, Washington State Board of Education, and the Washington Student Achievement Council. These collaborations strengthened their ability to create positive educational outcomes and build strong communities through education.